This article or section is a stub. You can help by expanding it.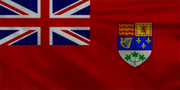 Canada is one of the Allies of World War Two.
As a dominion of the British Commonwealth, Canada declared war on Germany, Italy, and Japan independently from United Kingdom. While limited in military engagements initially, Canada was crucial in providing Britain the valuable resources, escorting supply convoys in the Atlantic, as well as grounds for training airmen in the British Commonwealth.
Canada's first full scale combat engagement occurred in the Italy campaign, where they fought together with other Allied nations. They also made significant contributions in the Battle of Normandy as well as the subsequent West European Campaign, where they faced some of the fiercest resistance from the German forces.
Ad blocker interference detected!
Wikia is a free-to-use site that makes money from advertising. We have a modified experience for viewers using ad blockers

Wikia is not accessible if you've made further modifications. Remove the custom ad blocker rule(s) and the page will load as expected.